Personalize your Fly Box in
3 Easy Steps
Step 1
Select a River
Each Stonefly Studio fly box includes a river map on the front and is what sets us apart from our competitors. When ordering your fly box, you have the option to select any pre-existing river map to have engraved on your box for free. Many of our rivers maps are available through our online store. However, due to demand, not all rivers maps are shown online. If you do not see the map you desire, please contact us directly.
"If we don't have the river you want, we'll design it!"
For a small fee of $50, we will design a map containing a new stretch of any river in the world. This is an interactive process and we will work with you to ensure that the artwork meets your needs and expectations.
For each custom design, or personalization option, you will receive a 3D, computer generated proof. We will not engrave a fly box until you are satisfyied with the artwork and inscription. This helps us provide you with the highest quality service possible.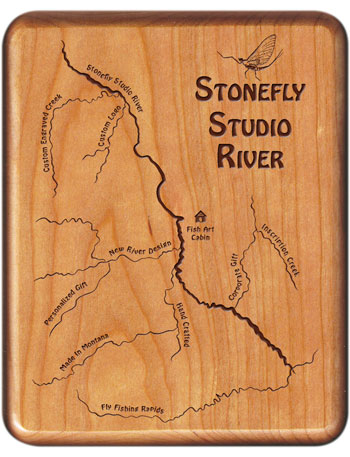 Step 2
Add an Inscription
Included with the purchase of any fly box is personalized laser engraving. Typically, this includes a name and inscription on the back of the fly box. This makes the box an ideal purchase for:
Birthdays
Anniversaries
Holiday gifts
Other major life events…
Please be aware, that while there is not a character limitation on the length of the inscription, we do reserve the right to shrink the font size to ensure that the inscriptions fits within the fly box.
Not only can you choose a name or inscription to be engraved, you have the option to mark important locations on your river map. For example, we can mark the location of your fishing cabin or favorite hole or riffle for free.
As with all custom requests, you will receive a 3D, computer generated proof before your box is engraved and shipped.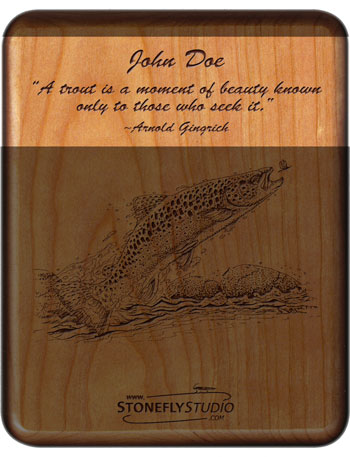 Step 3
Customize your Artwork
The last step in personalizing your fly box is choosing what artwork you would like featured on the back. Currently, we offer options from both David Whitlock and Larry Copenhaver that span cold and warmwater species. To view all available artwork options, please click here.
We also offer the ability to turn your favorite photographic memory into an engraving for a small $50 fee. This option converts your photograph to "line art" to enhance the final, engraved imaged. Because of the nature of this request, your photograph must be approved by Stonefly Studio on an individual basis. For more information regarding this option, please contact us directly. As always, you will receive a 3D, computer generated proof before your box is engraved.